If you're in the brokerage business, you understand real estate law and property rights. Now, with more and more business moving online and everyone wanting access to your listings, you also need to be versed in intellectual property (IP) rights as well.
Content is king when it comes to the internet. Real estate listings and their associated photographs and media are very valuable content (Intellectual Property). This content is so valuable that some websites have built pretty large kingdoms using other peoples' content.
Real estate listings attract consumers and clicks, and in turn, this web traffic delivers big advertising dollars for the websites that present this content. That's why so many companies are asking brokers to sign agreements that get their listings online for free. What better way for them to get compelling, engaging content without having to pay for it? These agreements can however backfire if the company who is asking you to sign is asking you for free reign to use that content for any purpose it chooses. The good news is that you can protect yourself and shield your brokerage with the simple stroke of a red pen.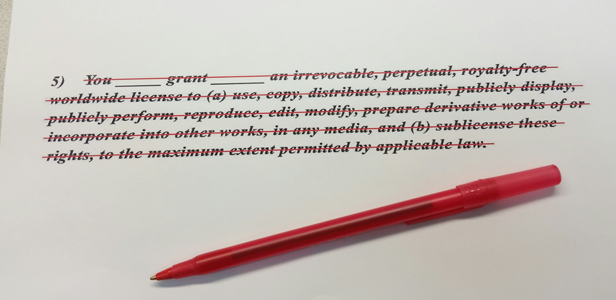 Clauses for concern 
It is routine to display listing data, photographs and other media to market your real estate listings. But, brokers need to be aware that the agreements they sign to get exposure for their listings often include a complex array of terms or clauses that deal with intellectual property. At their simplest there are two key types of clauses you need to be aware of:
Verifies that you have the rights to use and/or own the intellectual property you are displaying on their site for the purpose for which you are displaying it.
Asks you to extend or sublicense rights to the website owner for them to use that content for other purposes
The first type of clause is very standard and if you have written agreements with your content creators/providers you can have confidence in YOUR use of that content.  The second type of clause is almost entirely for the benefit of the other party, and rarely benefits you, in fact it could create liabilities that you don't want to have.  Let's look at that type of clause first.
Extending or sublicensing intellectual property rights
This is the clause you really need to look out for in any listing display or syndication agreement you consider. This clause is important because the parties that want your photographs will slip it into their terms of use strictly for their benefit, not yours. It typically reads something like this:
You _____ grant ______ an irrevocable, perpetual, royalty-free worldwide license to (a) use, copy, distribute, transmit, publicly display, publicly perform, reproduce, edit, modify, prepare derivative works of or incorporate into other works, in any media, and (b) sublicense these rights, to the maximum extent permitted by applicable law.  
There are a whole host of concerns you should have about a clause like this. This will not help – and may even harm – you, your agents or your agents' clients.
The online listing syndicator might need to be able to reformat photographs to make them fit their web pages, but that's the most you should allow them to do in an agreement that you sign.
Everything else in this clause allows the other party to use the photographs however they want, whenever they want and wherever they want, whether it benefits you, your agents and their clients or not. There are two parts of this clause that you need to understand.
A. Part (a) of a clause like this states that with your consent the third party could possibly use the photographs for purposes other than selling your listing or promoting your efforts to sell that property. They could show the photographs without any attribution to your company or your agents. They could even use the photographs to help promote the services of companies that you compete against.
B. Part (b) of a clause like this states that this "sublicense" not only gives this third party intellectual property rights to the content, but it allows the third party to give these same rights to anyone else they choose for any other purpose that they choose even to competitors of yours or people in completely different lines of business.
What a clause like this does for the other party is to try to pass the responsibility onto you for copyright and licensing violations they may make.  You cannot give away greater rights than you have. They can claim, if challenged, that they relied on your say so and they can even try to pass their liability on to you. Indemnification clauses in other parts of the agreement pass all the financial and legal responsibility on to you as well.  Again, this is very important to note, this type of clause enables them to use the content for purposes other than YOUR intended purpose – selling a home or promoting the fact that your company/agents have that listing.
The best way to understand the extent of this type of clause is to imagine if, when you went to Kinko's to make a copy, not only did they ask if you have the rights to copy that document but said that by making the copy, they were going to keep a copy for their own uses, which includes giving your document to other parties. Because these clauses are online and in terms that take time to read, they are often egregious.
Agreeing that you are allowing a third party unlimited use of this intellectual property opens the door to all kinds of issues for you and your company. The homeowner that allowed your company and your agent to market their home most likely thought the photographs were for the purpose of selling the home, not other businesses. The new home buyer would be even more concerned about how photographs of their home are being used, since they now live in the bedrooms, bathrooms and living rooms featured in those images.
If it wasn't for the fact that displaying listings is nominally "free" on these sites, most people would pay much more attention to what they are really giving away. Both the value of photographs to a web marketer and the potential liabilities of 'letting' them use them for other purposes are worth much more scrutiny.
When another party wants you to sign an agreement that states they can help you promote your listings, make sure you understand the true costs and don't give up your rights unwittingly. Also, make sure you aren't making representations to this website of rights you don't have. This creates even further risk when they ask you to indemnify them from all liabilities. There is a saying; "If a company is giving you a service for free, chances are you aren't their customer, you are their product."
Verifying that you have rights to use the content 
If you work with a reputable photographer or photography company for your brokerage, you should have a written agreement from the provider that expressly grants YOU rights to use the photographs to market YOUR listings. Such a limited right is called a license.
This license typically allows your agents and your brokerage to copy, duplicate and display the photographs at will in connection with your efforts to sell the property those photographs depict. Securing this license protects you from legal and financial liabilities. With this written agreement and the correct verbiage in place you can be confident in your ability to use those photographs in the normal course of your business.
These licenses are not boundless however. As mentioned above, some typical restrictions you may see in these types of agreements include restrictions on the right to sell the images, or to transfer the rights you have been granted, or to use the images for purposes other than those specified in the license.
If you don't have an agreement in writing from your photography provider, you should get one ASAP. Without this, you may not have all rights you believe you have and your capacity to use the images might be impaired.
If your agents are having their own photographs taken and you are using them, make sure they have secured rights from their photographers, and, more importantly, that the rights they have apply to your brokerage as well. If your agents take their own photographs, they should confirm for you in writing that they are giving you permission to use those photographs and should also clearly specify for which specific purposes they give you the rights to use the images. In a dispute – let's say for example that an agent leaves your brokerage – this could become an area of contention.
Copyright Law 
Ownership of the copyright in any kind of work gives the owner certain rights in the creative content (IP) in that work, including the right to license it.  Those rights of ownership are separate and different from ownership of the physical copy in which the IP is found     For example, if you buy an artist's canvas, you generally do not secure the copyright. You can hang the canvas in your own home or offices but you cannot use it to produce a hundred lithographs for sale in an art gallery. That right belongs only to the copyright owner.  Of course, the copyright owner can agree to give you permission to make those lithographs by licensing that right to you. Then you have a license to make one hundred lithographs, but you don't have the right to put that image on t-shirts and sell them.    In the same way, a real estate photographer (or his employer) owns the copyright in their photographs.  Even though they may give you a digital file of the photograph, it does not transfer ownership of the IP.  If they give you a license to use the digital image for a specific purpose, such as marketing a home for sale, it does not provide permission to use the image any and all other purposes.
Just like any time you place an ad in a publication or make a copy at a copy store of that picture in your possession, the party receiving the image needs to ensure that you actually have the rights to do what you are doing. Otherwise, the publication or the copy store will be equally liable for copyright infringement. Those rights will come in writing from the authors or creators of the content you are using. In the case of photographs, they will come from the photographer or his/her employer.
U.S. copyright law states that the author of a work (or his/her employer) is the owner of the copyright and has all rights unless they expressly grant rights to someone else. If you don't have an agreement in writing with anyone who has produced photographs that are displayed on your site, you should get one. Without that consent, the owner of the copyrights could possibly take you to court for copyright infringement. U.S. copyright law stipulates that in some cases, you may be liable for very expensive statutory damages for copyright infringement; anywhere from $250 to over $150,000 per infringement. In some egregious cases, this damage can be further multiplied.
Examples:  http://bit.ly/1FkH2qR
Remember, copyright law is designed to protect the author, or in the case of professional photography, the photographers themselves. The burden is often on the persons copying the image to prove they own or have secured the proper rights to the image. Using reputable photography studios is the best way to ensure this first protection.
What is a Watermark?   © ABC Studios 
Unlike listing data, images are protected by a copyright, which belongs either to the photographer or the photographer's employer from the time the image is created.
The same way Picasso signed his paintings, copyright owners are entitled by law to include a notice of ownership of their own rights. One form of this initial notice may take is called a 'watermark', and identifying image embedded in the photo or other work.  Altering and cutting these watermarks is prohibited by law. The use of the watermark by a professional firm that has a contract with you, ultimately protects you.
Seeing a watermark on an image from your contracted provider assures you and any of your marketing partners and employees at your brokerage that this image comes with whatever rights you have in your contract.  If you don't see a watermark on an image and don't know who owns the IP, you most likely do not know what rights you have to use that image and should be very cautious.
A copyright watermark conveys to others that the image is registered with the US Copyright Office, so if they use it without permission, especially for purposes that don't benefit you, they may well be infringing on the copyright.
What Now? 
Contracts are two way streets. If someone wants to use your content for purposes other than yours, make sure you understand the ramifications and negotiate from a position of knowledge.  Sometimes it's as simple as using a red pen to say 'no'.
VHT Studios 2016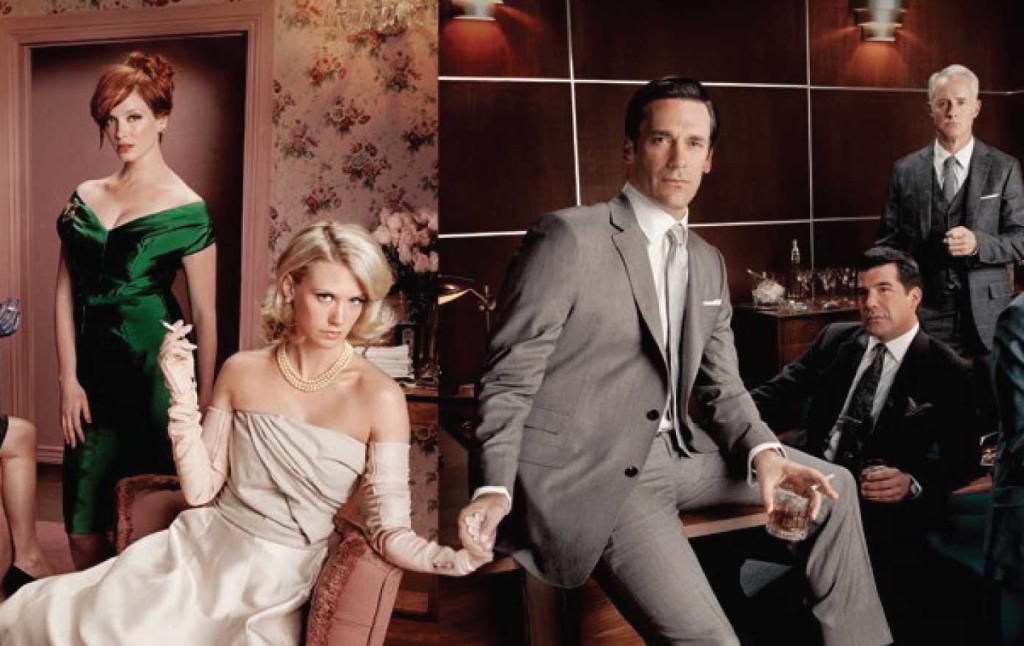 With today's competition to win real estate clients growing fiercer, agents might want to steal a page from the popular AMC TV series "Mad Men" for turning prospects into clients. How did those marketing pioneers score clients from their Madison Avenue rivals?
Through creative, vivid visuals that tell a story, capture their prospects' attention and emotions, and motivate them to act.
Unfortunately, real estate marketing tools in use today — printed brochures, paper folders and sell sheets — would fit right in with Don Draper's late 1960s era.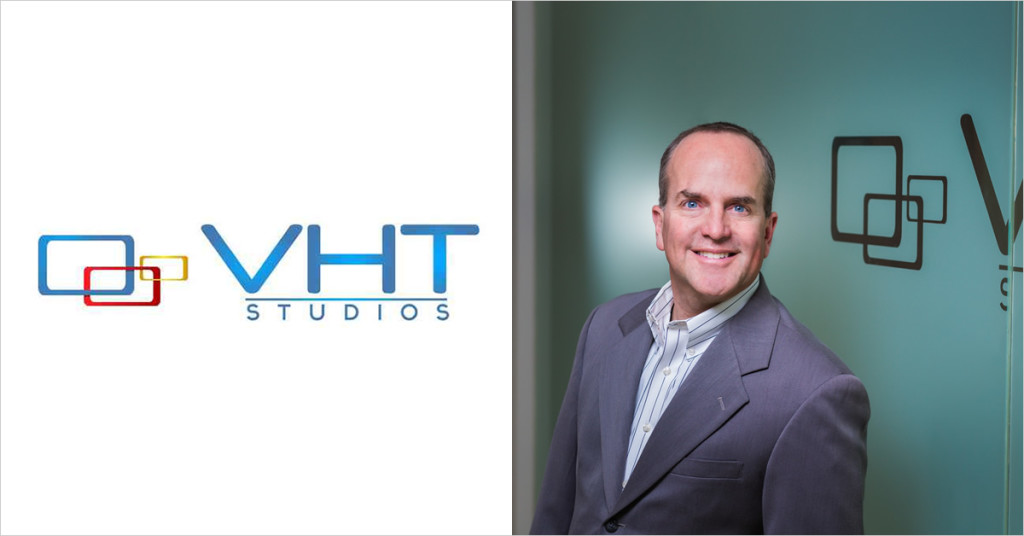 VHT Studios co-founder and CEO, Brian Balduf, recently joined Real Estate Coaching Radio's Tim and Julie Harris to discuss the true value of premium photography in real estate. Brian explains how today's real estate buyer life-cycle has changed and how agents can use high end photography and strong visuals to list and sell more homes.
Real Estate Coaching Radio, known as the nation's largest real estate talk-show, provides advice, news, and interviews with industry leaders to help coach agents and brokers. Tim and Julie Harris have been leaders in the real estate industry for over two decades, first as agents and now as experienced real estate coaches.
Listen to the full podcast here.
As a follow-up to the recently published blog post Now's the Time to Shield Your Real Estate Brokerage from Intellectual Property Liability, VHT CEO, Brian Balduf and Vice President Marketing, Sarah Anderson sat down with The Notorious ROB to discuss the various challenges that real estate brokerages could be facing regarding photography, copyrights and licensing if they unknowingly sign agreements without reading the fine print.
Some third party companies are asking brokerages to sign agreements that get their listings online for free. Before signing anything, Brian, Rob and Sarah are urging real estate brokerages to pay close attention to certain clauses so that they protect their interests and protect themselves from other parties' copyright violations. Listen to the podcast below to learn more and get in on the conversation.
Listen to the Full Podcast Here.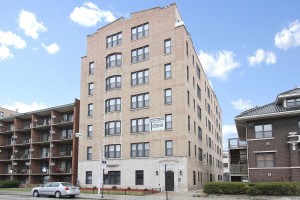 Pangea Properties is affirming what clients of VHT Studios have been saying all along: professional real estate photography is not just for marketing mansions and high-end homes.  Pangea Properties, a private real estate investment trust (REIT) and management company, has selected VHT Studios to deliver stunning real estate photographs that will provide an edge in marketing Pangea Properties' portfolio of more than 10,000 newly renovated apartments throughout Chicago, Indianapolis and Baltimore.
Pangea Properties provides convenience to prospective renters by allowing them to view apartments and townhomes online before touring them in person. The company is utilizing VHT Studios' unrivaled network of professional real estate photographers to help market this rental building on Chicago's South Side, as well as others in Indianapolis and Baltimore. See more photos at http://bit.ly/VHT-Pangea-6751S.
Pangea Properties' choice underscores the value of VHT Studios' professional photography and experience in managing multiple, large-scale photography assignments nationwide. VHT Studios has a deep bench – the largest national network of award-winning photographers – to provide high-quality real estate photography services at a moment's notice.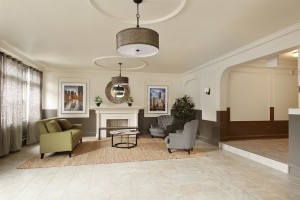 In addition, VHT's studio of image specialists ensures Pangea Properties' distinct properties stand out to potential renters.
Since 2008, Pangea Properties has invested $250 million in renovations to more than 10,000 distressed units, with a focus on making significant investments in the buildings and surrounding neighborhoods.
Pangea Properties CMO Justin Cohen says Pangea chose VHT Studios because of its expertise in managing assignments of this size.
"VHT's infrastructure ensures a simple, smooth process for Pangea Properties to get cost-effective and eye-catching photographs captured, processed and online," said Cohen.
VHT Studios eliminates the time and expenses related to finding, training and managing photographers; scheduling shoots; editing images; and uploading thousands of photos to the Pangea Properties website.
"When it comes to understanding the needs of renters, Pangea Properties gets it," said VHT Studios CEO Brian Balduf. "Their team understands that promoting rental units through high-quality, professional photography is not simply a customer convenience; the beautiful photographs attract potential renters to the properties and fill the apartments and townhomes more quickly."
Pangea Properties has a single point of contact so VHT Studios' professional photographs are processed quickly, efficiently and adhere to high standards of quality developed over 15 years in business.
Pangea Properties is among a growing number of organizations, including Google, using professional photographs to market anything a consumer would want to see before renting, booking or buying. That includes promoting restaurants, hotels, funeral homes,retail stores, college campuses, senior living complexes, yachts, salons, health clubs, medical offices and hospitals. To learn more about how VHT's stunning photography attracts buyers, email Elizabeth Cleary at Elizabeth_Cleary@VHT.com, or call 800-790-TOUR (8687).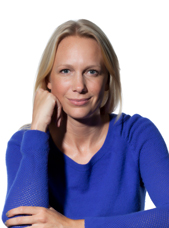 Because top New York real estate professionals demand world-class photography to become even more successful, VHT Studios introduces internationally renowned architectural photographer Romy Rodiek as the lead photographer for the New York City market.
Rodiek creates museum-quality photography, which fulfills VHT Studios' pledge to provide stunning photographs that wow prospective sellers and get buyers in the door.
"Romy brings an amazing array of life and professional experiences into her innovative photography," said Brian Balduf, CEO of VHT Studios. "She has traveled the world extensively and has always been interested in architecture and design. Her photography has been recognized internationally as meeting prestigious standards of design and excellence.
"Her insightful skill set and meticulous approach enables her to create images from an artist's point of view, resulting in great real estate and architectural photography."
Rodiek's innovative photography was showcased in 2014 shows at photo::vienna at the Museum für Angewandte Kunst in Vienna and Elective Affinities at the International Center of Photography in New York.
Best known for her clean, linear approach to her photography subjects, Rodiek takes a very structured approach to photography, striving to make her images clear, bold and exacting. She describes her work as "a little bit German.
"My work with some of the top real estate agents in New York has taught me that communication is the key," she said. "My goal is to deliver the unique perspectives, angles and elevations to create precisely the images my clients need."
Rodiek was born in Bremen, Germany, and studied photographic processes and portraiture at London's Central St. Martin's College and the London School of Photography, as well as the Photography Institute.
After finishing her studies in London, Rodiek won the Director's Scholarship at The International Center for Photography in New York. She spent years as a freelance photographer, starting out in the analog world.
Rodiek spent four and a-half months in South America and two weeks on a Russian icebreaker in Antarctica. Her photos from this trip and throughout Europe earned her two honorable mentions from the prestigious International Photography Awards in 2011 and 2012.
Her work has been exhibited at the SCOPE shows in Miami as well as Exposure New York, and she placed in the semifinals of the Wildlife Photographer of the Year Awards at the Natural History Museum in London.
"Working with VHT Studios is ideal for me because it allows me to combine my love of structural photography with my keen interest in marketing and business management," Rodiek said. She comes from an international marketing background, graduating from Institut Rosenberg in St. Gallen, Switzerland and the European Business School in London. She also worked for Western Union FSI in Vienna, Société Générale Bank in Vienna and Alfred Dunhill Ltd. in London.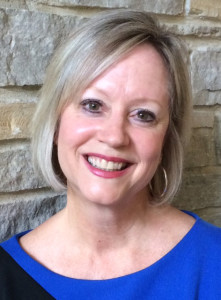 VHT Studios, home of the nation's most trusted network of top professional real estate photographers and most widely used image/video management systems, is pleased to announce the appointment of Sarah Anderson to the newly created position of Vice President, Marketing, effective immediately.
Anderson comes to VHT Studios following an award-winning career with Chamberlain Group, Inc. (CGI), a Duchossois Group company. Her background includes a variety of executive leadership positions, most recently including Vice President of Channel Marketing and Vice President of Marketing Communications and Customer Advocacy. In her tenure at CGI, Anderson built two home improvement brands to number one in the world. She brings more than 30 years of experience in building business through integrated marketing focused on the expansion of multiple brands and channels, igniting customer engagement and focusing on superior performance and highly memorable brand experiences. Anderson's broad expertise in brand building to grow market share and revenue will drive VHT Studios as it expands and enhances its suite of services to better serve brokers and agents, establishes new partnerships and increases brand awareness in other vertical markets.
"I am thrilled to have someone of Sarah's caliber and deep professional experience joining the VHT Studios team," said Brian Balduf, CEO, VHT Studios. "It's very important to VHT's future that we add a marketing executive to our leadership team who can generate results and strengthen our efforts to support top real estate professionals and market-leading firms to become even more successful. Sarah joins VHT Studios at an opportune time for the company, as we track a record growth trajectory," Balduf added.
VHT Studios has experienced double digit year-over-year growth in sales revenues, photography and related marketing transactions since 2013. More than 200,000 Realtors®nationwide have benefited from VHT Studios' photography and VHT ImageWorks video, which help Realtors® win listings, showcase their properties in the best light and get buyers in the door.
"I am honored and excited to help lead VHT's continued growth through increased innovation and excellence in brand, product and service offerings," Anderson said. "VHT Studios has built its reputation upon exceptional photography and marketing services that deliver visible results."
Anderson lives with her family in Glen Ellyn, Illinois and serves on the DuPage County Habitat for Humanity ReStore Advisory Board. She earned her Bachelor of Arts degree in Interdisciplinary Journalism with Public Relations Emphasis from Valparaiso University, Valparaiso, Indiana.
VHT Studios' Analysis shows high-quality photographs dramatically reduce Days on Market
CHICAGO, Ill. – September 2, 2014 – Realtors® who use professional real estate photographs to sell listed homes 32 percent faster than all other listings, according to a new study of Chicago-area real estate sales by VHT Studios, the nation's largest real estate photography network for homes and businesses.VHT Studios' analysis aligns with industry research indicating when a home is photographed and presented in its best possible light, the listing attracts more buyers by getting more clicks and a higher click-through rate. As well, a property with professional photography has a higher perceived value, minimizing prolonged negotiation and accelerating the sales process.

VHT Studios' analysis also shows the most experienced and productive Realtors® are typically the biggest users of real estate photography, said Brian Balduf, CEO of VHT Studios.

According to VHT Studios' first-of-its-kind analysis, Chicago-area homes that were professionally photographed sold 32% faster, spending an average of 89 Days on Market (DOM) – compared to 123 DOM for other homes. According to the analysis, Realtors® who utilized professional real estate photography cut average DOM by nearly five full weeks. VHT Studios analyzed homes in every price range, indicating home listings in all price-points benefit from professional photographs.

"Our findings are not surprising, given consumers' behavior when searching for homes in today's market," Balduf said. "Time-crunched shoppers are online and are attracted to striking photographs, which simplifies their decision to visit a property in person and speeds up the buying cycle."

VHT's findings are no surprise to top real estate professionals such as Chicago's Leigh Marcus, @Properties' Number One Individual Agent of 2013. Marcus ensures that all his listings are accompanied by VHT's flawless, high-resolution photographs.

"High-quality photographs capture buyers' attention and that's one reason why my clients' homes sell faster than the competition," said Marcus. "VHT helps sellers reduce the hassles of showing their homes. Plus the sooner you sell, you're more likely to attain your asking price or – better yet – have buyers bidding over your home."

New York City's Tracie Hamersley of Douglas Elliman Real Estate relies on VHT photographs for all her listings. She said her clients also enjoy a shorter sales cycle – fewer than 30 days – due in part, to the impact of VHT's real estate photography.

"Amazing professional photographs bring in crowds of buyers and ultimately contribute to a faster sale at the best price – the first offers we are getting are often the best ones," added Hamersley.

"This analysis shows once again that professional real estate photographs are not just for mansions and estates," said Balduf. "They are as important, if not more important for the average home for sale. Our study shows that Realtors® who are not taking advantage of professional photographs in their listings are missing opportunities for themselves and their clients."

Eva Oliver and David Sporn of Coldwell Banker, Miami Beach said VHT Studios' professional real estate photography helps brokers to generate the activity needed to sell their listings.

"Photos are the first impression prospects and realtors see online and on the MLS.  If a property fails to give a good first impression online, then it's possible your listing may not be shown," said Oliver.

Sporn added, "Staying true to a property's look and offering great quality photographs will generate more activity than other properties. Professional photographs and a virtual tour is a no-brainer when it comes to marketing our clients' homes."

Balduf said VHT Studios' 2014 success is an indicator of real estate professionals' increasing use of high quality professional photography to market their listings. Compared to 2013, VHT Studios has experienced 40% year-over-year growth in sales revenues and photography orders. Other 2014 milestones include:

VHT Studios' images produced in June 2014 — 1.1 million
Realtors® benefitting from VHT Studios' photography and VHT ImageWorks video: 200,000+

For examples of VHT Studios' professional real estate photography, please visit this slide show –www.vht.com/premium

How VHT Studios Conducted Our Study
The study analyzed all Chicago metro-area homes sold in 2013. The average Days-on-Market for all homes comes from reports available to all agents in the area by Midwest Real Estate Datahttps://www.mredllc.com/statistics/fiveyear.asp. VHT Studios compared Days-on-Market for VHT-photographed homes versus all other single-family homes sold during that period.

About VHT Studios

VHT Studioshelps top real estate professionals become even more successful. Properties that VHT photographs get seen more, sell faster and at a greater price. The VHT Studios team completely takes care of Realtors'® most compelling selling tool – high-quality photography – so they have more time to take care of their customers.

With an unrivaled nationwide network of highly skilled photographers and Image Specialists, VHT Studios is an affordable, valuable investment for real estate brokers who expect their listings to beautomagically seen whenever and wherever homebuyers search.  Based in Rosemont, Illinois, VHT's 150+ photographers have helped more than 75,000 real estate professionals sell more than $200 billion in properties since the company's founding in 1999. For more information, visitwww.vht.com.
Lots of people in and around Washington, Ill., are referring to the areas devastated by Sunday's tornado as looking like a war zone.
Six people were killed and dozens other injured when tornados swept through Illinois on Sunday, November 17. Officials report more than 1,000 homes sustained damage and tens of thousands more are still without power. More than 100 people stayed in 25 Red Cross shelters Monday night in Michigan, Indiana, Illinois and Ohio.
After a disaster, everyone wants to help. With nowhere left to store the cases of water and rolls of paper towels and bags of children's clothing that keep coming in, churches and other shelters in the Washington area are turning away donations.
"We're Midwesterners," says Phil Bolam, accepting a couple of slices of pizza offered by a teacher from the neighboring middle school who walks by, pushing a waiter's cart. "We band together in tragedy, and people are wonderful."
His home of 20 years on Westminster Drive is gone, nothing but broken wood left in its place. He and his wife, Ella, were trying to salvage what they could before the rain started up on Wednesday afternoon. He's staying in a hotel and has no storage.
"We're going to rebuild, right here," Phil Bolam says. "We hope some of our neighbors do, too."
Read more: Heartwarming Reunion: Illinois Tornado Survivor Finds His Missing Dog Buried Alive Under Rubble (UPDATED)
Here's how you can help:
LOCATING LOST THINGS WITH SOCIAL MEDIA:
Found items from the Washington Illinois and Diamond Illinois Tornadoes
Found something in your yard that belongs to someone in Washington or Diamond, Illinois? Post it to this Facebook page so that the owner can find it.
There's also a Facebook page for missing pets.
DONATE:
American Red Cross:
The American Red Cross is responding across five states to help people affected by Sunday's devastating tornado outbreak and severe weather in the Midwest, providing food, shelter and comfort to families and individuals in need.
If you'd like to make a donation, please do so through the American Red Cross website.
Salvation Army:
Before the storm was even at full strength, the Salvation Army had mobilized teams to areas that looked like they would need emergency food and shelter. These teams are dispersed across the region to offer nourishment, shelter and guidance to the needy. The Salvation Army has established a way to give immediately; you can contribute by texting STORM to 80888 to make a $10 donation.
You can also send a check to The Salvation Army, 401 NE Adams, Peoria, Illinois 61603. Specify that you're donation is for "November Tornado Relief."
Operation Blessing:
The humanitarian organization vows to help even if it doesn't deploy a full disaster response team. Jody Herrington-Gettys, director of domestic disaster relief for Operation Blessing, has pledged support to the region, saying it will partner with local churches and other groups and assist in aid efforts through grants and donations.
Team Rubicon:
Team Rubicon is a group of veterans who come together after disasters to provide immediate relief and aid to rescue and recovery workers. It has already sent people to help clear debris in Washington, where many of the injuries occurred.
Washington & Central Illinois Tornado Relief & Recovery:
This Facebook page has frequent updates on what you can give and how you can get it to the victims of the tornadoes in central Illinois.
Here is a list of locations that are excepting donations of supplies.
MORE INFORMATION:
PEORIA/WASHINGTON ILLINOIS LOST AND FOUND PETS-NDARRT:
A community Facebook page for reporting lost and found pets from the Washington, IL, and surrounding area.
WASHINGTON & CENTRAL ILLINOIS TORNADO RELIEF & RECOVERY:
Clearinghouse of Info, Relief & Recovery Resources for the 11/13 Tornadoes in IL.
LOST DOGS ILLINOIS
A network of volunteers & dog advocates helping reunite "lost" dogs with their families & "found" dogs with their owners.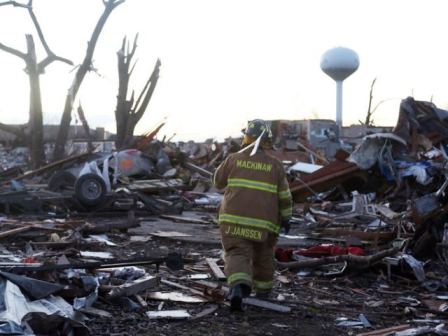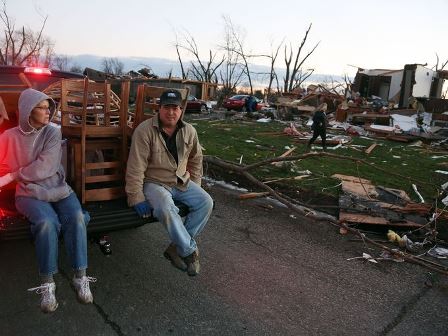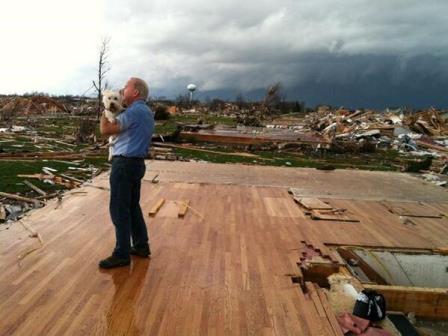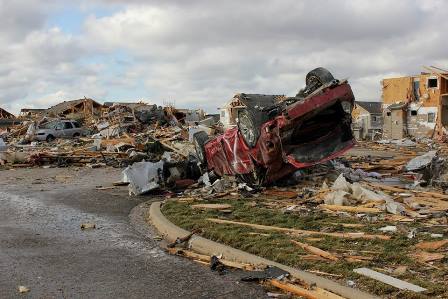 Photo credits: Zbigniew Bzdak/MCT/Landov/Tasos Katopodis/Getty Images