Customer Success Story: Shorewest REALTORS Achieves 50% Average Monthly Jump in Search-Engine Generated Visitors with VHT ImageWorks
Let's just jump right into the good stuff. The results.
Shorewest was seeking help competing with big aggregators and other real estate sites for site visitors from search engines. With VHT ImageWorks Shorewest was able to:
• Significantly increase volume of keywords and search terms associated with Shorewest.com
• Realize a 50 percent increase in visitors from search engines to Shorewest.com
• Improve online experience for visitors to Shorewest.com
• Close more sales transactions
• Increase commission dollars to agents
• Grab the number 1 spot on the list of most-visited real estate sites in its target geographic market
Shorewest chose VHT ImageWorks because of the platform's comprehensive, turnkey approach and the unrivaled online marketing expertise of VHT's team.VHT ImageWorks positioned Shorewest as the original source of its property listings information on the web and significantly increased the volume of keywords and search terms on Shorewest.com.
Home buyers are then directed to Shorewest's listing agents rather than to advertisers. This ensures that Shorewest's agents don't lose sales opportunities, and that inquiries on listings are being handled by experts. Which was why Shorewest turned off syndication to third-party aggregators Trulia, Zillow, and Realtor.com in the first place.
This graphic shows the month to month increase in unique visitors from search engines that  VHT ImageWorks achieved to help propel Shorewest.com to the No. 1 spot as the most-visited real estate Website in Milwaukee, ahead of REALTOR.com, Yahoo! Real Estate, Zillow and Trulia, according to Hitwise.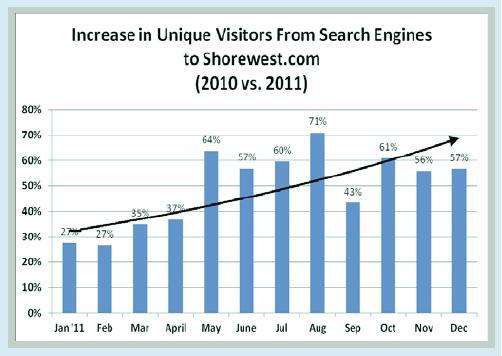 To read the entire Shorewest REALTORS Customer Success Story follow the link, and don't forget to sign up for our blog!