Thankful Thursdays: Homes For Our Troops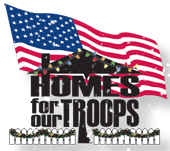 Homes for our Troops is a national non-profit organization founded in 2004 which is strongly committed to helping those who have selflessly given to our country and have returned home with serious injuries since September 11, 2001. This top rated non-profit assists severely injured Veterans and their families by raising money, building materials and professional labor, and by coordinating the process of building a home that provides maximum freedom of movement and the ability to live more independently. The homes provided by Homes for Our Troops are given at NO COST to the Veterans the organization serves.
Homes for Our Troops exists to restore the gift of freedom and independence to our nation's most severely injured veterans through the gift of a specially adapted home. Homes for our Heroes has completed hundreds of new homes throughout the country, and currently has 31 ongoing new constructions.  Please view the interactive map for more information on their projects.
Your donation to Homes for our Troops helps build homes for service veterans like Army Staff Sergeant Luke Murphy.
Army Staff Sergeant Luke Murphy the Squad Leader of an 11 man Reconnaissance Team with the 187th Infantry Regiment, a component of the 101st Airborne Division was on his second deployment when he lost his right leg above the knee and severely injured his left leg in an Explosively Formed Penetrator (EFP) blast in Sadr City, Iraq on April 25, 2006.

Transported by truck, and thanks to the lifesaving measures by his men, 18 minutes after the blast SSG Murphy was in a field hospital being prepared for medevac to the Baghdad ER where he received several units of blood. Stabilized for transport to Landstuhl, Germany, SSG Murphy arrived at Walter Reed Army Medical Center within days of his injuries and remained there for a year enduring nearly thirty surgeries. SSG Murphy is grateful for the support he has received from the Tallahassee community.

When asked what he would like to say to those who will make this specially adapted home possible SSG Murphy stated, "Thank you for helping to make my life easier. The daily obstacles I face will be greatly reduced with a home built by Homes for Our Troops. Your actions will help reduce the stress and pain I deal with which in turn will make me very happy and comfortable…I will be empowered by the independence I will have and will be pleased to be a functional citizen again."
VHT Studios has made a donation to help give severely injured veterans homes, and here is how you can too:
You may make a donation using your credit card online here , by calling the Homes for our Hereos office from 9 am to 5pm EST at 866-7-TROOPS or print out the form and mail in a donation to the office at:
 Homes for Our Troops
 6 Main St.
 Taunton, MA 02780
Learn more about Homes for our Troops mission of 'building homes, rebuilding lives' and where your donation goes here: http://www.hfotusa.org/faq