You Are Here
'Real Estate for Sale in (insert town name here)' might be the Holy Grail of keywords in the real estate market, but is it really the right local keyword for you? To avoid competing with businesses that are outside of the country, state or even town, there is one appropriate strategy: focusing on hyper local SEO.
Local SEO has the ability to personalize a customer's experience and blends the boundaries of the real world and the internet. Companies now have the power to release a message locally and get the information right to their target market. In fact, local SEO benefits businesses in ways that global SEO cannot.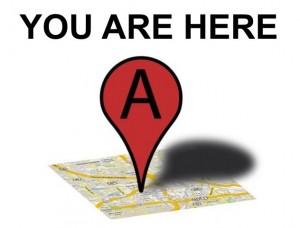 Here are 5 ways to stand out using hyper local keywords and tactics.
1)      Get specific, and then get more specific

'Real Estate for Sale in X' is a fine keyword, but it is incredibly broad, and with broad, all-encompassing keywords comes competition. When you work in a metropolitan area or in an area with a lot of competition, it pays to get hyper local with your SEO. For instance, let's say you're a real estate agent in Chicago, every other real estate agent and brokerage in Chicago is going to be focusing in on 'Chicago'. Take it a step further and focus on the neighborhoods you serve, 'homes for sale in Lincoln Park' for example. If you've followed our past blog posts ('Get Specific and Go Local' and 'Content is Key(word)') we may sound like a broken record, but going hyper local with your keywords will help ensure the right customers are finding your website.
2)      Be a recognizable face in your neighborhood
As a real estate agent or brokerage, it is important to show you are an expert in your local community. So get involved! Show that involvement on the neighborhood pages of your agent or brokerage website. Offer a list of the top things to do in your neighborhood. Give information about the shopping, the nightlife, the restaurants, the schools, etc. Creating pages on your site that give details about your marketplace, the surrounding shops and businesses and insights into the homes in the area, allows you to be in expert in ways that nobody from outside your marketplace could possibly do. Plus, when you write about community news and events, you naturally attract people who are fans of that community. Everything you do, both online and off, can be leveraged for SEO.
3)      Get social
Along with showing your neighborhood expertise on your neighborhood pages and website, social media is a fantastic way to connect with your community. Social media and local SEO are interdependent. Social networking sites, like Facebook, often have geotag media, creating an optimization point for local SEO. This gives credibility to a business and solidifies its location within search engine listings.
Furthermore, post photos of new listings, photos of happy new home owners, share local events, links to blog posts, neighborhood trivia, and your pets – whatever! Just start posting and sharing. Social signals are becoming increasingly important for SEO so the more times your content is shared on social sites the more valuable it becomes to the search engines.
4)      Utilize Google Applications
The data you input in your Google+ profile, the connections you make, the interactions you have and the posts you make are all part of an increasingly visible digital footprint that begins to define 'you' as an entity in Google's search. Google is starting to view this information as humans see it, which means that you are likely to have a more targeted audience in Google search than ever before. And the key here is relevance. This is because in most cases Google can see the general location of a searcher, or the location he or she is searching for. When localization is in play for your area, Google will boost your search result even more for in-network users, and more importantly for mobile search.
For example, the listing of a condo for sale in Chicago posted on Facebook may get a little bit of interaction with some of those who see it, it may get re-shared a few times, a few comments might be posted, but its chances of finding a buyer are slim and the post will get buried in the stream of new content within a couple of hours or so. The chances then of the right person seeing it, at the right time, with the right mindset, are so slim that they hardly do justice to the effort involved in posting it. Posting on Google+ is a whole different, and better, ballgame. The data is indexed by Google. The search engine notes that the listing is for a condo in Chicago. Google will move your listing to the top of the search when it's relevant to the search query.
Quick tip: It is important to just get your presence felt through these Google+ pages and Google Local. The way to start going about this is creating profiles for all of your offices and be sure to completely fill out those profiles. Incorporating photos, video, address, local phone number, business hours, etc, will help your local search results. Correlation studies show that Google takes "profile completion percentage" into account when ranking Google pages.
5)      Be Authentic
Aside from attracting local search traffic, local SEO has a few other key advantages. The first advantage is that a website that has had the proper local optimization treatment done to it will be viewed as being more authentic by big search engines like Google. The second benefit is that local search engine optimization has the ability to bring authenticity, mobile users and an audience of people who are more likely to purchase products or services directly to a website. The last feature that local search engine optimization carries with it involves the ability to bring in users who are more likely to be customers.
These are just five ways to get hyper local with your SEO. When your customers live and work in a very specific community it is important to go after that location in as many ways as possible with your SEO. The stronger presence you can build online and off the better success you'll have over time. Today, local search traffic is something that the real estate industry can't afford to ignore.