Get Specific and Go Local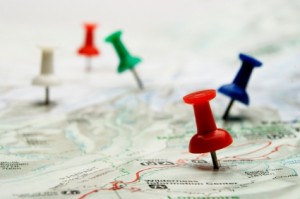 Location matters, but few real estate sites provide quality content to prospective buyers at the community level. If your website only provides information on listings, you're missing out on a huge opportunity for user engagement and a stage to demonstrate your agents' local expertise.
As the internet has become a primary source for buyers, (90% of buyers start their search online) it is crucial to make the best first impression. This means getting noticed in a pool filled with major SEO and SEM budgets geared toward driving traffic to real estate destination sites. It's not an easy task.
Furthermore, nearly 70% of buyers who take action on a real estate site began their search with a local geography term. For example, 'Old Downtown Algonquin Homes for Sale' or Real Estate in Old Downtown Algonquin, IL'. Having locally relevant content on communities, neighborhoods and even schools makes a huge difference in your potential to get in front of buyers and present them with relevant content once they are on your site. Not only do buyers notice, search engines like Google take note of this too when ranking you in their search results.

Stand out in a Crowd – Community Profile Pages
How is one noticed in a sea of local information? Create localized content pages that you can utilize as landing pages for consumers, but put your own perspective on them. There are numerous sites out there devoted to providing community based information, but they all have their own unique perspective, or at least they should. A government site is different from Wikipedia, which is different from a Food Critic's blog, which is then again different from the local school information page. Just providing the content to get another page on your does not get you noticed.
A brokerage's local profile content must be tailored to a real estate perspective. People like to think of real estate professionals as authorities in their communities, therefore it is important to utilize that knowledge base. The way a real estate professional sees a community is very different than that of a government official or even the consumer. Interested buyers and potential clients are looking for different information than generic Wikipedia data and U.S. Census statistics.

How can you start beefing up your neighborhood pages?
Get specific. Get beyond specific. Narrow down what keywords you'd like to be found for in a search that's local to you and incorporate those keywords into your content on these pages.   The easiest way to do this is to optimize your content as a neighborhood expert. This means that in addition to the listings and photos on your website, you should also have these unique pages that portray the added value of the surrounding neighborhood where your listings are located. Here are some ways to incorporate that info:
Articles with important information about the neighborhood, utility information, and great places to eat, etc
Photos of local hot spots and interesting neighborhood events you've attended
Photo/video/blog posts from your agents of dishes from restaurants, cool buildings or landmarks in the area
Articles about upcoming events and festivals in the neighborhood or general neighborhood news
Video interviews with local community experts
Video tour of a hot property that has come up for sale
Neighborhood video tours
Home values, selling prices and other market information.
Updated images, photos, and listings

Let's walk through a neighborhood
For instance in Algonquin where I live, there are a few main streets, and there is the old downtown and the new downtown. There is the east side of the river and the west side. There are a few key parks and a few key schools. There are certain bad traffic intersections.  There are a few gems of restaurants, i.e. everyone goes to the dairy queen on rte. 31 after a sporting event.  There are also a few key shopping areas that everyone in town and in real estate knows.  This is the type of information people want to know. A community blog or postings from agents about their perspective on the town would be incredibly helpful. And, of course, photos, photos, photos.
If you utilize this type of perspective for each community, this provides your own unique presentation of the community that surrounds your inventory.  What better way to sell a home than create an experience of familiarity and comfort  in the surrounding area.
Here is a good example of a neighborhood page with recommended homes based on location with built-in search functionality to drill down even further in a certain geographic area.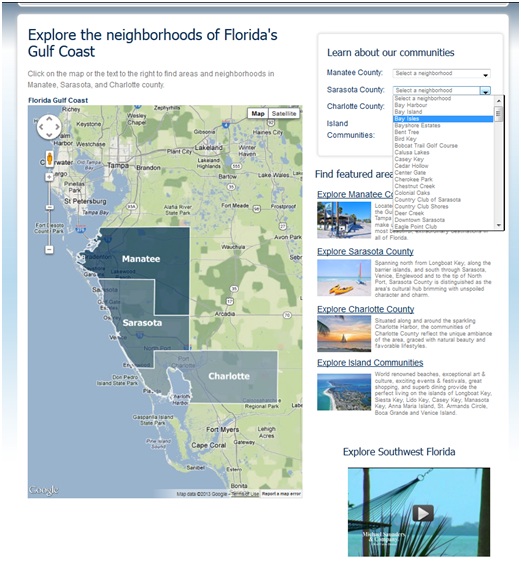 After selecting a specific community page, in this case Bay Isles, Florida, we can see unique written content, maps, rich media (video, photos) and textual content, business reviews, video tours, blog posts targeted at the Bay Isles area, and of course, recommended Bay Isles listings. All this dynamic content creates user engagement.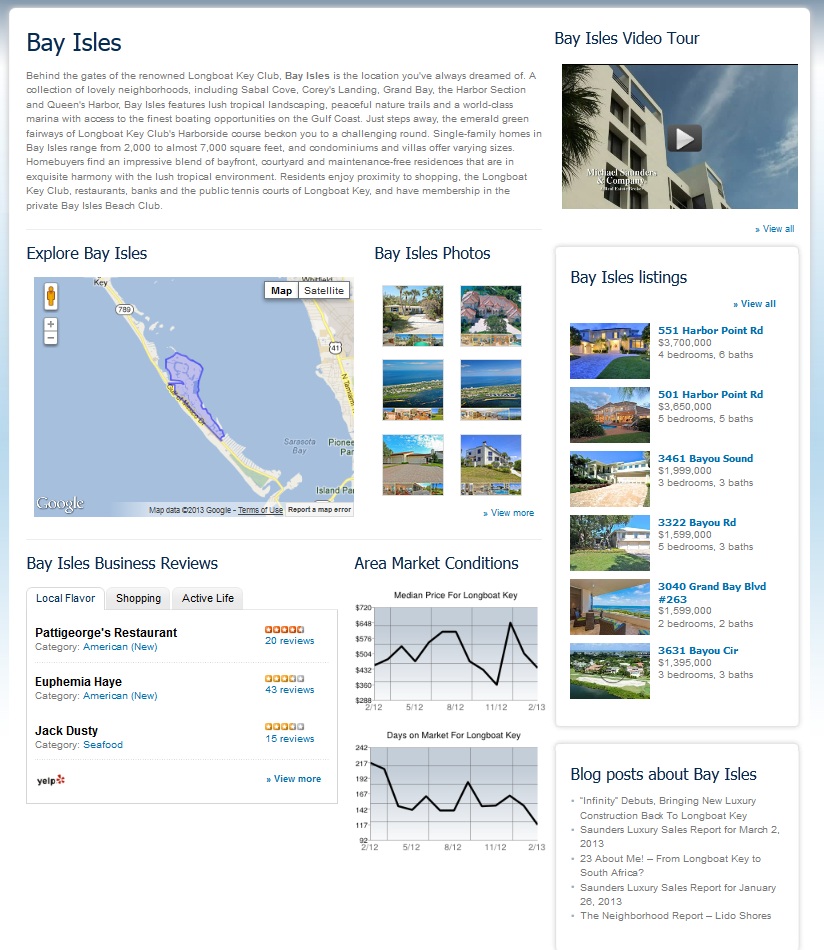 This is especially powerful for attracting relocation buyers who are not as familiar with various cities and neighborhoods in your community. Help them understand why people in your community live where they live, what it looks like, and that your agents have expertise in the communities that interest them. This increases conversions to leads, and should also increase conversions from leads to transactions.
Local-search visibility should be a springboard – a launching pad. Local SEO is most valuable when you use it to open up even more streams of potential customers. With dedicated time and resources, you can turn your stale website into a hub of targeted community content.  Your website will no longer be your typical home buyer/ seller resource with canned information.   It is a rich center of information for any potential client. It has a web page on each community in your territory, each one touting a compilation of information that only your website can provide. Now that's a web page worthy of a number one spot.