Part 1: Content is Key(word)
The way consumers search for real estate now-a-days, vastly differs from 10 years ago.  There are a couple reasons why this is true; More consumers are searching for homes online than ever before (90% of homebuyers start their search online), instead of going directly to an agent to assist them in their search. And traditionally, real estate marketing consisted of agents tailoring their marketing to agents assisting buyers and sellers, and brokerages tailoring their marketing efforts to attract and retain agents.  Search engine optimization is becoming more important than ever before, as consumers now have the power of search in their hands.
The Internet is now by far the most powerful (and underused) marketing tool in a broker's arsenal. With the right approach and web technology, brokers can stop being blocked out by the big aggregators and media sites when it comes to search engine visibility. They can drive more buyers directly to their websites, make their brokerage stand out from the pack, establish their company as the real estate authority in their local markets, and add value for their agents.
Brokers can attract consumers and keep them engaged, by utilizing the right search engine optimization tools and techniques, which will lend to driving more consumers to your site.  Over the next few weeks, we will be sharing some of our tips and techniques on how brokers and agents can help fight the online battle against competitors and third party aggregator sites.
Content is King of the Internet Jungle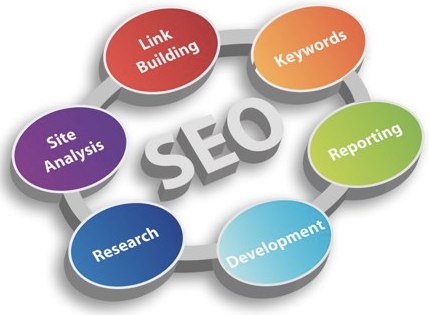 In this week's two-part post we look at one major area of your site's SEO: Content. Content is the king of the internet jungle, because content is what drives consumers to your site.   Search engines are switching gears in the way they interpret content, moreover, they now are shifting to consider quality over quantity of keywords and content on your site.  It is essential that you find the perfect balance between the two.  This week we will provide tips on how to start your content journey, researching a consumer's content wants/needs or potential wants /needs:
Do your Research
1.       Figure out who you want visiting your site
While this seems straightforward, there is a difference between customers who are just perusing your site and customers that are shoppers/ buyers.  You can research your current consumer base through Google Analytics.  Google Analytics can tell you where your visitors are coming from (e.g. Search, Facebook, Twitter, Referral, Direct), how much time each group spends on your site, and what pages they view so you can cater your content on various landing pages to the people that matter most and attract more of them.
2.       Research how consumers are searching online
Understand the terms and phrases (keywords) that your customers use to search for properties online. Repeatedly, we see brokerages fail to perform well in certain keyphrase segments in analytics.  Examples of these segments could be searches on keyphrases like "location + homes for sale", or homes, houses, real estate, realty, realtors…The list goes on.  Why, because they are not utilizing the keyphrases that consumers are typing into Google.  They are still marketing their sites to agents.
Some of the best keyword discovery tools are Google Adwords and WordTracker Keyword Tracker .  For instance, Adwords allows you to enter in keywords/ phrases that you want to see if consumers are using, and will provide you insight into how many searches each entry receives on a monthly basis.   Wordtracker works the same way, but you are only able to research one keyword/phrase at a time.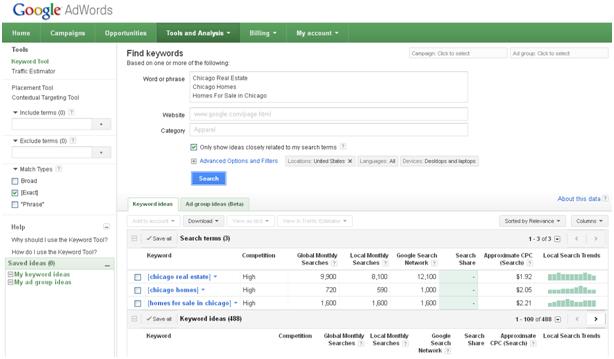 3.       Research what consumers find attractive on your site (and stick with it!)
With Google Analytics, you can research the most popular content that drives people to your site.  By doing some keyword analysis on your own site, you can see what your current viewership finds you as the authoritative source for, in regards to your provided content.  For instance, if a lot of your visitors were directed to your site using keyphrases that revolve around information on the communities that your serve, this would show that people find your site to be useful for "community information."  If this is a case, you can then tailor your landing page strategies around the communities you service  in order to support your current visitors and help attract more visitors to this specific information.  If you did not already have community landing pages, this would be worthwhile to invest your time into setting up.
4.       Lastly, research your competition
Competitive analysis tools like SEO Power Suite, Majestic SEO, and Ahrefs can give you some good, free, but limited insight into your competitor's content.  This will provide an overview of what content your competitors are focusing on so that you can come up with a strategic plan to incorporate competitive content into your site.  Also, it allows you to parse out, which specific niche, if any, that your competitors are targeting, so that you may tailor your niche to compete against their content build. 
Things to keep in mind
Keyword competition in this industry is high as brokerages and agents are all competing for the same targeted keywords. In the midst of this competition, you also have to keep in mind that geography plays an important role in your research.  When doing your research, make sure you keep in mind how people may search in your local market. As hyper-local marketing becomes ever so present in the SEO game, making sure you are adhering to your specific geographical data is vital.
By looking at just global data, you are not getting a painted picture of how people search in your market.  For example, globally it may show, that "Olathe, KS Properties" is searched quite often on a monthly basis, but in your local market (where your largest percentage of consumers may come from) "homes," "houses," and "real estate," get searched significantly more than properties ever does.
Part Two
This blog post was part one of a two part post. While this write-up focused on how to research content and find the best terms and phrases for your site, Part 2 will focus on how you can actually implement that research into your site. Also included in Part 2 will be SEO tips, tricks, dos, don'ts, and best practices.