Thankful Thursdays: Illinois Tornado Relief
Lots of people in and around Washington, Ill., are referring to the areas devastated by Sunday's tornado as looking like a war zone.
Six people were killed and dozens other injured when tornados swept through Illinois on Sunday, November 17. Officials report more than 1,000 homes sustained damage and tens of thousands more are still without power. More than 100 people stayed in 25 Red Cross shelters Monday night in Michigan, Indiana, Illinois and Ohio.
After a disaster, everyone wants to help. With nowhere left to store the cases of water and rolls of paper towels and bags of children's clothing that keep coming in, churches and other shelters in the Washington area are turning away donations.
"We're Midwesterners," says Phil Bolam, accepting a couple of slices of pizza offered by a teacher from the neighboring middle school who walks by, pushing a waiter's cart. "We band together in tragedy, and people are wonderful."
His home of 20 years on Westminster Drive is gone, nothing but broken wood left in its place. He and his wife, Ella, were trying to salvage what they could before the rain started up on Wednesday afternoon. He's staying in a hotel and has no storage.
"We're going to rebuild, right here," Phil Bolam says. "We hope some of our neighbors do, too."
Read more: Heartwarming Reunion: Illinois Tornado Survivor Finds His Missing Dog Buried Alive Under Rubble (UPDATED)
Here's how you can help:
LOCATING LOST THINGS WITH SOCIAL MEDIA:
Found items from the Washington Illinois and Diamond Illinois Tornadoes
Found something in your yard that belongs to someone in Washington or Diamond, Illinois? Post it to this Facebook page so that the owner can find it.
There's also a Facebook page for missing pets.
DONATE:
American Red Cross:
The American Red Cross is responding across five states to help people affected by Sunday's devastating tornado outbreak and severe weather in the Midwest, providing food, shelter and comfort to families and individuals in need.
If you'd like to make a donation, please do so through the American Red Cross website.
Salvation Army:
Before the storm was even at full strength, the Salvation Army had mobilized teams to areas that looked like they would need emergency food and shelter. These teams are dispersed across the region to offer nourishment, shelter and guidance to the needy. The Salvation Army has established a way to give immediately; you can contribute by texting STORM to 80888 to make a $10 donation.
You can also send a check to The Salvation Army, 401 NE Adams, Peoria, Illinois 61603. Specify that you're donation is for "November Tornado Relief."
Operation Blessing:
The humanitarian organization vows to help even if it doesn't deploy a full disaster response team. Jody Herrington-Gettys, director of domestic disaster relief for Operation Blessing, has pledged support to the region, saying it will partner with local churches and other groups and assist in aid efforts through grants and donations.
Team Rubicon:
Team Rubicon is a group of veterans who come together after disasters to provide immediate relief and aid to rescue and recovery workers. It has already sent people to help clear debris in Washington, where many of the injuries occurred.
Washington & Central Illinois Tornado Relief & Recovery:
This Facebook page has frequent updates on what you can give and how you can get it to the victims of the tornadoes in central Illinois.
Here is a list of locations that are excepting donations of supplies.
MORE INFORMATION:
PEORIA/WASHINGTON ILLINOIS LOST AND FOUND PETS-NDARRT:
A community Facebook page for reporting lost and found pets from the Washington, IL, and surrounding area.
WASHINGTON & CENTRAL ILLINOIS TORNADO RELIEF & RECOVERY:
Clearinghouse of Info, Relief & Recovery Resources for the 11/13 Tornadoes in IL.
LOST DOGS ILLINOIS
A network of volunteers & dog advocates helping reunite "lost" dogs with their families & "found" dogs with their owners.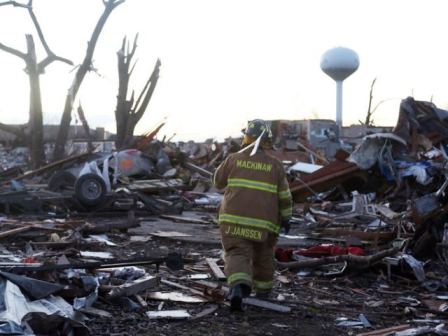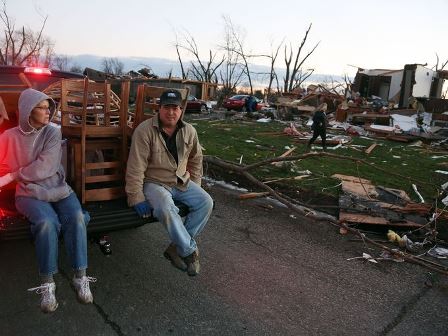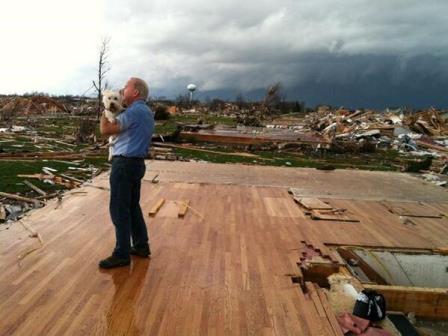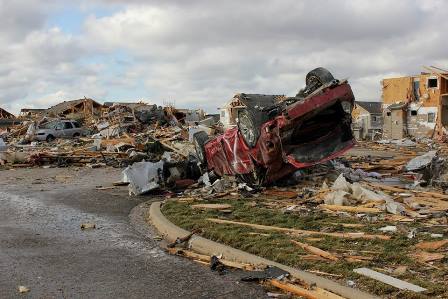 Photo credits: Zbigniew Bzdak/MCT/Landov/Tasos Katopodis/Getty Images